Belly Full Plants
Our family's endeavor is to do well while doing good work that is a benefit to life on Earth. No mission runs closer to our hearts than bringing robust food webs with biological diversity to landscapes. We see the next 5, 10, 20, 50 years as an opportunity for the human species to phase out our exploitive, wasteful habits and to find sustainable alternatives to the many practices that threaten the health of life on planet Earth. As a family and a business we have eliminated grid power from our life. We operate multiple off grid solar power systems that help reduce the carbon footprint of our operations. We are committed to replacing more of our consumptive appliances with renewable alternatives. We never use chemical fertilizers, pesticides or herbicides. Our committment to sustainable organic practices is demonstrated by over 30 years of the history of our family. We strive to and will continue to minimize our use of fossil fuels as much as possible.
Peggy and Otter have been propagating plants for years, and finally decided to make a big step together in Autumn 2021, and open up their joy of multiplying trees, shrubs, and planting seeds to be available on the larger scale. They propagate all their own plants, and are a licensed plant nursery that is excited to grow!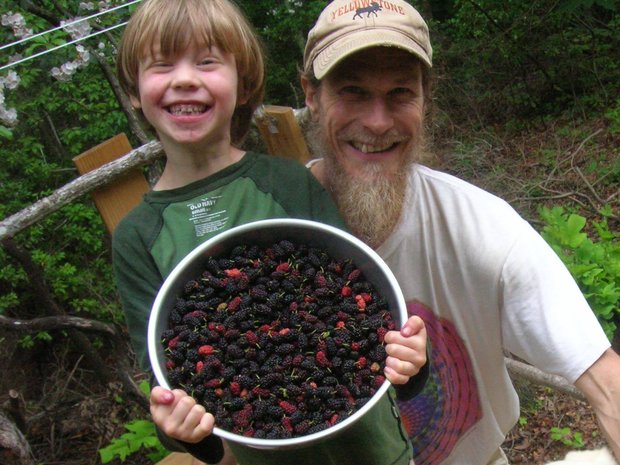 Michael "Otter" Malone
Otter has been involved in the organic food industry since soon after graduating college in 1988. He started an organic produce distribution network with the mission of promoting an awareness of the health and environmental benefits of organic practices in 1990 in Wilmington, NC called "The Organic Produce Resolve". Otter moved to an organic farm community in the mountains of Madison County, NC in 1994. He has been a student of sustainable farming and plant propagation since that time. Otter's enthusiasm for understanding the nature of life, humanity and right relationship with nature has been growing ever since, "If there is one thing I have learned in 35 years of experience in sustainable agriculture, forestry, herbalism and animal husbandry it is that I will always be learning!"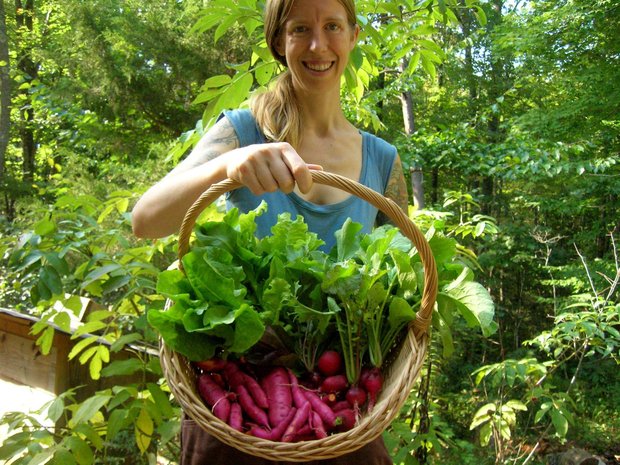 Peggy Kaase Malone
Peggy has had a passion for growing food since she was a little girl living in Yellow Springs, Ohio. She's been involved in community gardens, and met her permaculture teacher and friend, Patricia Allison, in Austin, TX while attending UT-architecture school. She got her permaculture design certificate in 2004.
After six years living at Earthaven Ecovillage, helping organize permaculture classes, the 2005 Katuah bioregional congress, the Taylor Creek valley watershed coalition (in response to encroaching housing developments causing severe erosion), and other community-oriented events, Peggy built a home/stead next to the village and started growing a family. She worked at Red Moon Herbs for three years, enjoyed attending SE Wisewomen Herbal Conferences held in Western North Carolina since 2005, and took doula training through The Matrona in Asheville.
One of the biggest recurring themes in Peggy's life is food security. She feels that growing food is one of the most radical and empowering actions a person can do. Planting more perennials, and helping transform landscapes into edible and medicinal landscapes (in turn, ALSO supporting wildlife) seems like one of the best ways to do that.